Fit For The Future
A one day Future Series Conference by Southampton Science Park
Fit For The Future explores the challenges and opportunities that are arising from the globally ageing population in a business context.
This one day event encourages those working in the innovation sector to prioritise and embrace demographic change to bolster future competitiveness and resilience in a fast-changing global marketplace. It also asks product suppliers and service providers across all sectors to open their eyes to the potential power of collaborating with the tech sector to fuel future success.
Delegates will leave with a detailed understanding of the societal and commercial impacts of the significant demographic shifts that are taking place both here in the UK and globally. They will hear from experts across four key focus areas: the workplace, home life, health and social care and communities, before learning of the opportunities that exist right now to be a business that is 'fit for the future'.
This full day event comprises a keynote speaker, industry case study presentations, panel Q&A session, networking and demonstrations.
Keynote speaker:
George MacGinnis Healthy Ageing Challenge Director, UK Research and Innovation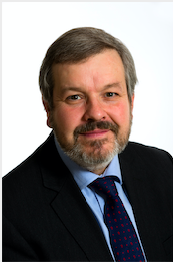 George MacGinnis leads the £98 million research and innovation programme supporting the UK Government's Ageing Society Grand Challenge to ensure that people can enjoy at least 5 extra healthy, independent years of life by 2035, while narrowing the gap between the experience of the richest and poorest.
He has a varied background in health and care innovation including recent work on the future capacity needs for a reformed health and social care system in the Republic of Ireland, a review of the impact on the NHS of Small Business Research Initiative in Healthcare, a landscape review of the MedTech sector for the Academic Health Science Networks and leading the user group for a global industry alliance to enable a consumer-friendly market for digital wellness and health products and services through standards and accreditation.
Agenda
9.15am Coffee and networking
10.00am Introductions - Robin Chave, CEO Southampton Science Park
10.15am Keynote speaker - George MacGinnis, Healthy Ageing Challenge Director, UK Research and Innovation
George will outline how an ageing society will impact businesses and public services, the opportunities for businesses to be innovative with the use of technology to address this challenge and the funding to support innovation and research that is available through the government's Healthy Aging Challenge.
11.00am Places: creating ageless communities - Ben Bridgewater, Chief Executive of Health Innovation Manchester
Ben Bridgewater is Chief Executive of Health Innovation Manchester, an academic health science system that brings together health, academia and industry. The mission is to accelerate innovation into practice at pace and scale, so to transform the lives of Greater Manchester's 2.8 million citizens.
He is a leading expert on health informatics, national clinical audit, clinical governance, healthcare transparency, patient experience measurement and digital transformation in healthcare, publishing numerous high profile academic outputs and delivering innovative IT tools for disseminating clinical outcomes to professionals and the public.
Prior to joining Health Innovation Manchester, Ben worked for global technology company DXC Technology as the Director of the Healthcare and Lifesciences Global Build Advisory Team. Until January 2016, he was a cardiac surgeon at the University Hospital of South Manchester for nearly 18 years.
Ben also provided clinical leadership for the UK national cardiac audit programme, as well as leading analyses that provides UK hospital and cardiac surgery mortality rates to the public. The programme is world-leading and associated with a 50% reduction in risk-adjusted mortality over 10 years.
11.30am Coffee break
12.00pm Living: Rising to the Challenge of Independent Living – Cam Kinsella, Aster Connected Living.
How future housing plans need to create homes that enable independent, healthy and connected living. The technologies that are already making positive impacts in terms of affordability / design / ease of maintenance.
12.30pm Wellbeing in the workplace – Ash Ledrean, Op_n
1.00pm Lunch
2.00pm Start now – workshop session
3.30pm Networking and close